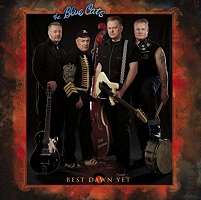 Formed in 1980, THE BLUE CATS released their seminal FIGHT BACK album and single WILD NIGHT in 1981. Their fusion of rockabilly and new wave was, and still is the prime example of what became known as neo-rockabilly.In the mid 1980's they started working on the G-MEN project and songs that would form the basis of the next stage on their journey, BELTANE FIRE. After a hugely successful year on the alternative London club Circuit, they signed to Sony Music in late 1984 and in 1985 recorded album DIFFERENT BREED.In 1992 they recorded again as THE BLUE CATS, and the result was the critically acclaimed album THE TUNNEL. After spending another year on the road together they decided to go their separate ways to pursue individual projects.Early in 2011 Steve Whitehouse was recruited on double bass and the band hit the road again for an extremely successful run of European dates. The huge success of THE BLUE CATS 3rd period is now to be celebrated with a new album BEST DAWN YETon Bluelight Records. Over the last two
years or so, the band has been writing together again and now believes they have together a superb collection of the best songs they have ever worked on, as the first single BILLY RUFFIANS pulled from the new album clearly demonstrates.
Simultaneously with the new album Bluelight Recordswill re-release the classic status album THE TUNNEL from 1992. The new release is expanded with four bonus tracks taken from the G-MEN E.P. and all recordings on the CD are remastered from the original master tapes.
Website: www.bluecats-beltanefire.com